Morning session: Infection Control In The Era of COVID-19: What Dental Practitioners Need to Know
Afternoon session: Risk Management & HIPAA Compliance in the Dental Office
Louis DePaola, DDS, MS
BIO
Louis DePaola, DDS, MS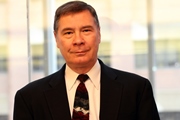 Dr. Lou DePaola is the Associate Dean of Clinical Affairs and Professor, Department of Oncology and Diagnostic Sciences at the School of Dentistry, University of Maryland, Baltimore.
Dr. Lou DePaola is the Director for dental training for the Mid-Atlantic AIDS Education and Training Center and served as a member of the ADA Council of Scientific Affairs from 2002-2005.
Dr. DePaola serves as the dental and infection control consultant for the Commonwealth of Pennsylvania and the State of Maryland Department of Corrections. In 2015, Governor Hogan appointed him to the Maryland State Board of Dental Examiners. Well known on the lecture circuit, he has presented at most major national meetings as well as numerous international organizations.
Active in research, he has authored and co-authored of over 130 journal articles, book chapters, and abstracts and serves as a consultant to the American Dental Association and numerous other professional groups and private industry. Over the past 20 years, he has been awarded over 75 research and service grants, many in the field of antiplaque chemotherapeutic agents, HIV/AIDS, management of medically compromised dental patients, rapid salivary diagnostic testing, dental unit waterlines and infection control.
Dr. DePaola received his DDS in 1975, completed a Master's Degree in Oral Biology, is a Diplomate of the American Board of Oral Medicine and the American College of Dentists; and has a Certificate in Prosthodontics.
Overview
Infection Control In The Era of COVID-19: What Dental Practitioners Need to Know
AM Session:
This course fulfills CDE requirements for infection control and requirements for annual OSHA training.
The cluster of severe pneumonia cases caused by a novel coronavirus first reported in Wuhan, China in December of 2019 has now circled the globe. To date more than a million cases have been reported. Although similar to SARS, which emerged in 2003, this new virus has been identified as a novel, never reported virus now called SARS-CoV-2. This virus causes a severe acute respiratory syndrome in some patients and this disease has been named COVID-19 (coronavirus disease-2019). Unfortunately, this virus is capable of person-to-person transmission and has rapidly spread across the globe.
The alarming spread of this infection in the USA has had a dramatic impact on dental practice. This program will provide dental providers with the latest information on the epidemiology, testing, treatment and management of COVID-19. Additionally, this program will provide dental providers with the latest information on the management of COVID-19 in the dental office. Paramount to controlling this pandemic are the principles of respiratory hygiene and cough etiquette and enhancements in respiratory protection that may need to be implemented. Emphasis will be placed on compliance issues and how a practical, cost effective "safe workplace" can be achieved in 2020.
Topics will include:
Principles of infection control
Hard surface disinfection
Instrument preparation and packaging
Disinfection and sterilization
Operatory set up and breakdown
Personal protective equipment
Epidemiology of COVID-19.
Transmission of COVID-19.
Prevention/treatment of COVID-19.
Principles of respiratory hygiene and cough etiquette
Mitigation strategies.
Principles of respiratory hygiene and cough etiquette Infection control recommendations for COVID19.
Objectives
After completion of this course, the participant will be able to:
Understand the routes of transmission of infectious diseases and how to break the chain of infection.
Know the updated recommendations for Standard Precautions.
Learn the principles of respiratory etiquette to reduce the impact of respiratory diseases.
Understand the how COVID-19 is transmitted.
Know the signs and symptoms of COVID-19.
Understand the latest information on the transmission, testing and management of COVID-19 as presented in April, 2020.